This year, my dad decided that we were all going to do the
Turkey Trot
on Thanksgiving morning. I'm NOT a runner and found this idea less than appealing, but then again, I knew that as a family, this might be a fun plan.
We left their house by 7:30am on Thursday morning and headed over to the park, randomly finding a parking spot right up front. A 5K race, we really only planned to walk. My mom broke her ankle severely a couple of years ago, so it's amazing that she can even go for walks, let alone 3 miles at a time.
I jogged the first mile and the majority of the third mile, my dad and sister speed walked, and my mom brought up the rear, but we all finished and enjoyed ourselves! And that seemed to be the theme of the day. I saw huge families in with their own team tshirts, moms with their babies in strollers, elderly folks holding hands the entire way, and toddlers participate in the mini-race. There was a big raffle at the end and lots of yummy snacks for the racers.
I may have complained about doing this silly race, but I can definitely see this becoming a new family tradition. VIVA LA TURKEY TROT!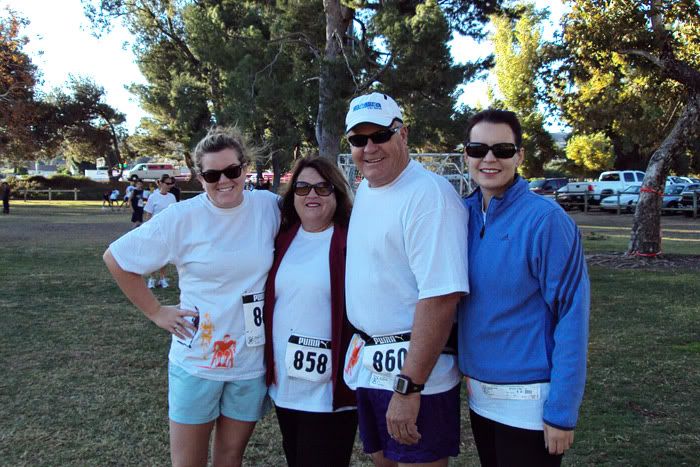 My favorite thing about the race was the fact that some teenager literally did the whole race in a turkey costume!!!
Or did I just love the old people who held hands the whole way??? I AM a sucker for love!!!
Does your family have any fun Thanksgiving traditions???