I'm finally going through my BlissDom pictures and have been digesting my favorite moments and experiences.
When I decided to go, I assumed I'd enjoy the social aspects of the conference. In fact, I actually thought that would be the best part of the conference! As a public affairs professional, my career has prepared me well for this, but in my innermost being, insecurity still lurks. But, I met WONDERFUL women who I had instant connections with! It was so funny to think to myself "she's WAY taller/shorter in real life" or "she's WAY more charismatic/shy in real life."
I also got a lot out of some of the sessions. Not the kind of note-taking "a ha" moments, but reminders to focus and narrow my message. I need to put some time into that and start being a better blogger. I knew I needed to rebrand before I left, and that was very much confirmed for me, too.
Here are some fun pics from the sessions.
Jess
,
Lindsay
, and
Rhoda
taking it all in.
Just about everyone took their laptops and either live-blogged, edited images, or kept up with twitter. I didn't take mine so that I could focus on people, instead of technology. I did take my camera with me everywhere, but frankly, I kept it out of everyone's faces for the most part.
What a thrill it was to have a fun cocktail party on Friday night, too. Our featured entertainer was HARRY CONNICK, JR. OH MY WORD, he is so talented and HAWT!!!
My boyfriend and I...I mean, Harry Connick, Jr., and some new and old friends. Thanks to Darcy (My3Boybarians) for making me look good!!!
Here's a pic of me and
the stinker
who harassed me into going to the conference. She was relentless, BUT she was right. I had a tremendous time and I know I would have regretted had I not gone!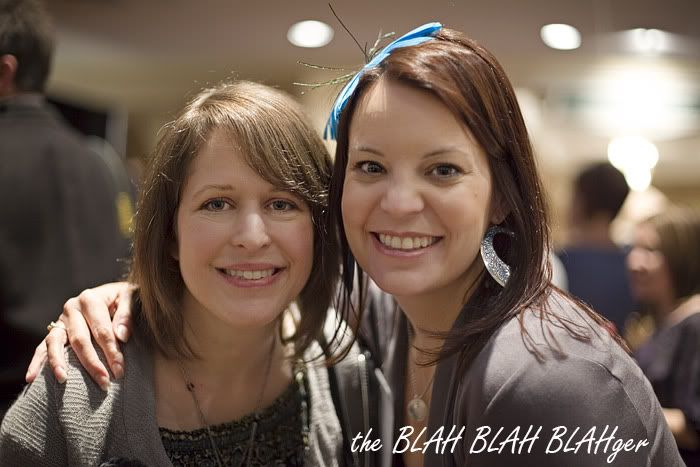 Here's my girl
Lindsay
. It was so great to be together again. I am so fortunate that blogging brought us close again!
Sandy
blessed me with some amazing conversation. She walked up to me after a session and gave me a warm hug and I can't tell you how much that meant to me! And it was too funny to know that she lives in the same town as some second cousins and totally knows them...small world!
(By the way, I bought that flower headband at Forever 21 for a few bucks and I got SO MANY compliments on it on Saturday! Several girls even took pics of it for their blogs. What a riot!)
Before the conference began, my dear friend
Kimm
asked me to shoot some profile pics for her blog. Here's a sneak preview. I think she looks gorgeous and I can't wait to send her the rest!!!
And let's not forget the fact that I did my Shootsac giveaway at BlissDom!
Dawn
helped me to draw two numbers and select two very excited winners! This is the
Sassy Irish Lassie
and I heard that she did a happy dance when she saw the news on twitter. Hilarious!
Jana Warnke
also won a Shootsac. We met at the i heart faces photowalk and she seems like a total doll!
Julia snapped this great shot of a few of us before the concert and cocktail party. I had to borrow it because we all look like we're ready for fun! We danced like maniacs and HAD A BLAST!
image courtesy of hookedonhouses.net
On Sunday morning,
i heart faces
hosted a photowalk in downtown Nashville. It was FREEZING COLD, so I snapped very few pics, but here are a few fun ones!
Then I went to lunch with my cousins and some other photo friends. I got lost for almost an hour trying to find them, but once I did, I had a fantastic time enjoying my family. PS - why didn't someone tell me that hat made me look like a cancer patient?