On Friday night, I was invited to a networking event for bloggers. It had style, it had flair, it had wonderful bloggers, it had sugar. Everything you need for a successful networking event.
It had an ADORABLE organizer named
Rachel
.
Rachel has a wonderful blog and an estate sale business that I've followed for a while. Not long ago, I found out that she's the SIL of a photographer
friend of mine
and we started emailing. Isn't that how most online friendships work? Someone is a friend of someone or we stumble across them randomly?
Anywhoooo...Rachel seems to be a networker extraordinaire and decided to put together a group for a fun night out. And I liked all her friends!
We chatted, drank fizzy pink lemonade, ate cake pops (yes
Ashley
, your fave!), and networked and talked about our blogs. It was super fun and I can't wait to meet up with these women again.
I've been fortunate enough to attend a few different blog/twitter networking groups and if you have the opportunity to hit one up in your area, I say GO! It may be awkward at first, but once you start making connections, you'll start making friends!
The ingredients for Blog Sugar:
Adorable decor!
Delicious treats!
Name tags that also double as hairclips. Thanks,
Julie
!!!
Parting goodies!
Computers to check out everyones' blogs!
And adorable hostess!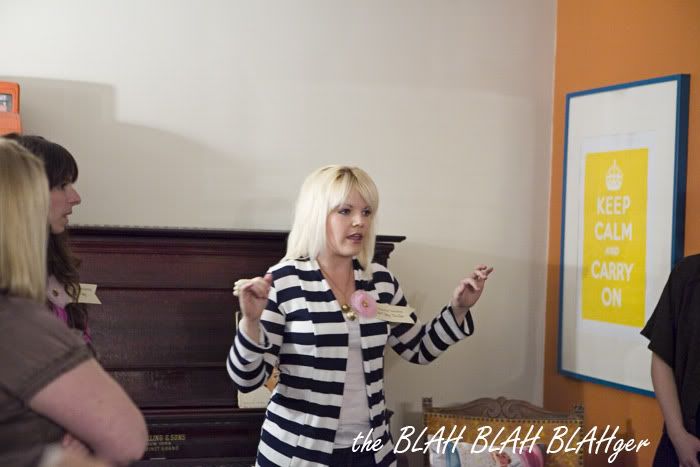 Raffle prizes!
Details, details, details!
Thanks SO MUCH to Rachel for organizing such a fun girls night out. You are truly a joy and I can't wait for more fun times together!
**********
Hey, guess what?! I was also featured today on
Better After
. Go check it out when you have a chance!!!