Sooooo, I finally cooked. It's been ages. Why has it been so long since I've stepped foot inside my kitchen??? Your guess is as good as mine.
Do to the poopy weather this weekend, my shoots were cancelled, so I had plenty of time to organize/clean out my atrocious car and garage. I also had time to grocery shop and cook...and it felt good!
I invited some friends over for dinner and we had belly laughs and tons of fun AND I tried a new recipe that wasn't disastrous!!!
Check out my latest dish,
Chicken Provençal
:
First, I began with a delicious cava (the Spanish version of champagne). It was AMAZING!
Hello yummy ingredients! 4 garlic cloves, 1 tbsp fresh rosemary, thyme, tarragon, EVOO, 3/4 tsp salt, 1 (3 1/2 lb) chicken, 1 lemon, quartered, 1 lb whole small red potatoes, 2 red onions, each cut into 6 wedges, 3 plum tomatoes, halved, 1 tsp dried oregano, 1 zucchini, 1 yellow squash.
Using the fresh herbs, EVOO, and some salt, create a paste and mix it together, then rub it under the skin and onto the breast and legs.
Quarter a lemon and jam it up inside the chicken. Ya, I just said that.
The last step involves wrapping the legs together with kitchen twine, then placing the vegetables all around the chicken. Cook on 425 for about 45 minutes, or until the chicken is done (at about 180 degrees internally). I ended up having to cook mine for longer as I'm not really a fan of raw chicken. : )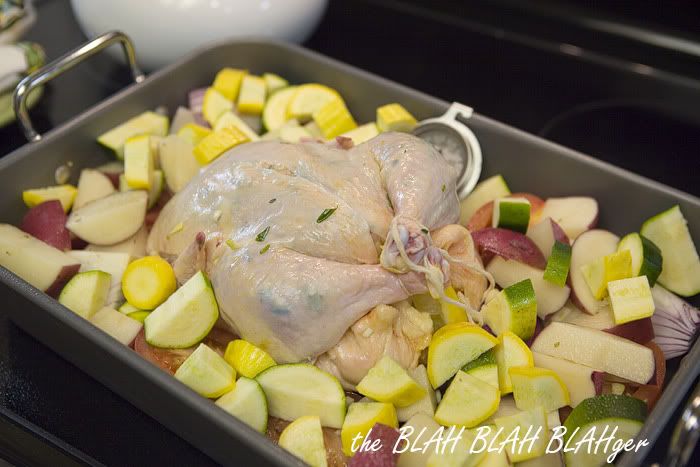 Sadly, I didn't get an after picture because we tore into the delicious meal like vampires (sorry, Twilight was a topic of discussion at dinner). However, the bird was juicy and perfectly seasoned. We all agreed the recipe was a good one and that this would go into a regular rotation!
I'm sharing this recipe with my friends at
Tasty Tuesday
. Head over there for more yummy recipes STAT!