My cousin
and I both celebrated our birthdays last week and even though we're both well into our 30s (YUCK!!!), we decided to indulge our obsession with
So You Think You Can Dance
and have a theme party based on the show!!!
We asked all of our friends to come dressed like dancers, rented a huge disco ball, and even had a special guest judge. Most of the guests actually came dressed in costume and at the end of the night we had a few performances that were stinkin HILARIOUS!!!
I ordered a cake and cupcakes from a fabulous twitter and OC Crush friend Kristin of
Meringue Bake Shop
. If you're hosting a So Cal party, you MUST call her. Her treats are DELISH and not one of the mini-cupcakes got thrown away at the end of the night. The cake was absolutely divine (vanilla with a raspberry filing - YUM!!!) and she was able to put the SYTYCD logo on it!!!
The best part of the evening was the goofiness that comes from a theme party. I don't know what it is, but a costume just brings out the fun in a person! Thanks to everyone for coming and letting loose! It was the perfect way to celebrate our birthdays and we love you all!!!
Carlee and I in the photobooth. I was a latin dancer and she was a ballerina!
My wine club/small group with their husbands took a turn in the photobooth. This photo brings joy to my heart.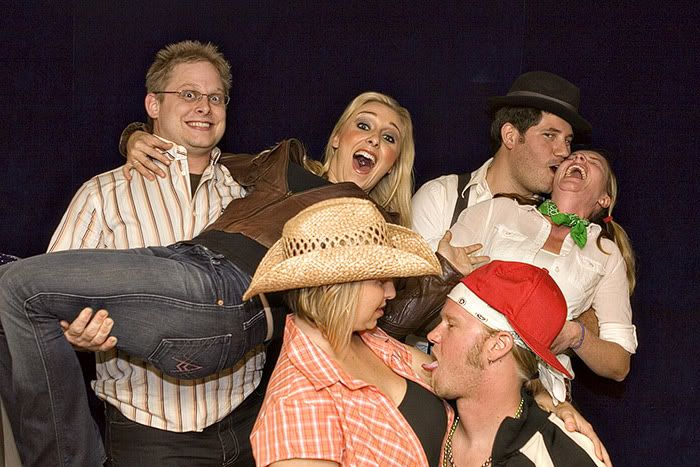 Carlee and her husband Bryan. Don't they just seem like fun people?!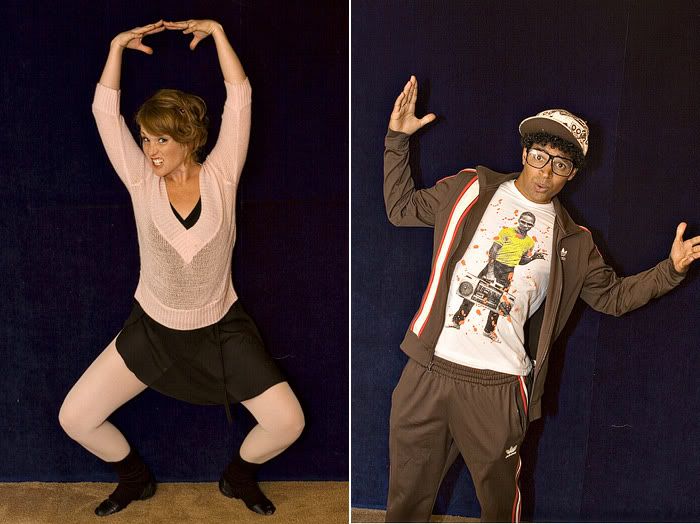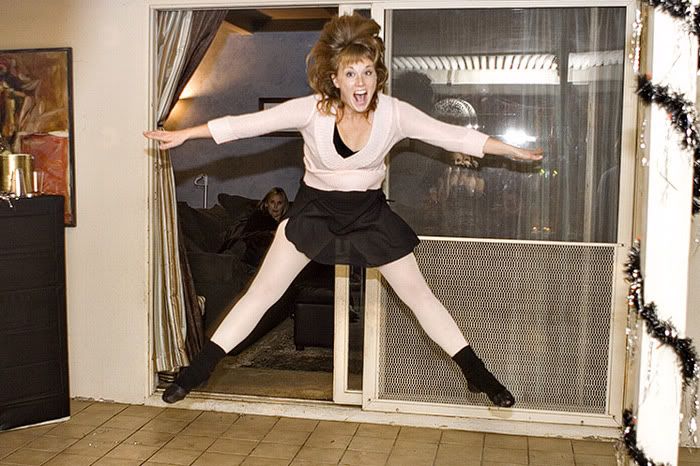 The dance party in full effect at the end of the night! About 2/3s of the people had already left or were inside and boy did they miss out! Can't you just feel the music???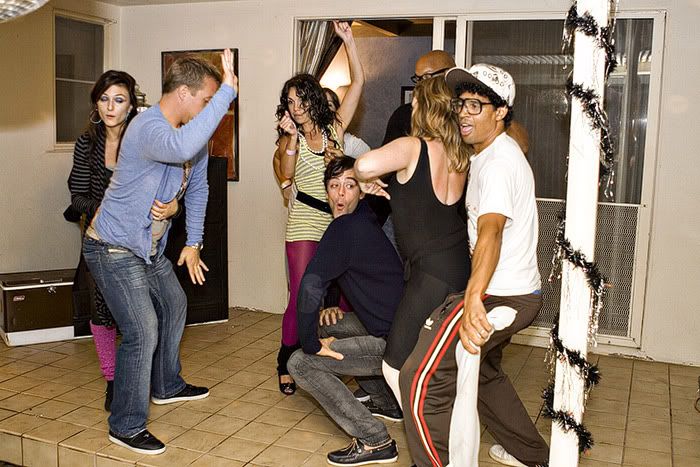 Basically, this was the best party ever. I highly recommend you let loose and throw a theme party for yourself sometime soon, too! It was SO FUN!
And in other SYTYCD news, last night I went to the show of the Season 5 Finalists with my cousin and two other girls we used to dance with as teenagers. We were on a competition dance team and have stories of terrible costumes, wigs, and basically having no life for several years other than practice practice practice! We had a BLAST seeing the show and all liked different numbers the best.
While I'm a traditional jazz dancer, these two numbers were ones that caught my attention last night! I thought that Kayla and Jason truly executed their Shane Sparks hip hop routine like rockstars and that Janette and Brandon's disco was SO fun!!!