Not long ago, at a dinner party, my friend Matt made a comment about my bedroom being too girly for a guy...and I haven't forgotten this comment.
I know some of you have full decor/design control over your homes and some of you have metro-men who put their two/four/six cents in on everything. But I'm a single gal and I have to wonder if my house could turn off a potential suitor!
It's not like my bedroom is decorated in hot pink (although after seeing this pic, I wish it were!)...
Or that I have a chandelier and a canopy (although, I'm jonesing for both now!)...
Or that I have uber-delicate furniture all in light fabrics (although, this looks so clean and delicious that I'm thinking of replacing my reading chair)...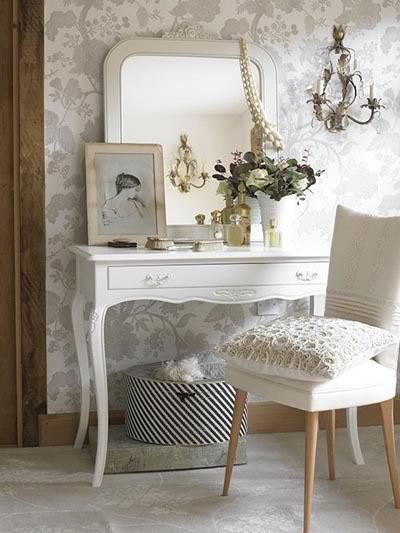 Or that I use my handbags as decor or have a bust to dress up my jewels in (although, now I NEED one)...
Or that I have gorgeous fabrics, shiny and blingy accessories, books and pretty artwork (oh, wait...I do).
What do you think? Does feminine decor and design offend manly men? Or do even the macho-ist of guys appreciate well designed homes? Should I stick with my gut or stop accessorizing with girly items? I'd honestly love your opinions!!!
Help a girl out!!!