My friend Emily over at Remodeling This Life has graciously allowed me to feature her this week for Tool Talk Tuesday. She and her hubby, and two doll babies, live in Florida and have been turning their house into their dream home. She's the queen of spending wisely and I love how she's so transparent in her blog about being fiscally conservative. I wish I could bring her here to So Cal and be my angel over my shoulder whenever I have a big money decision to make! Regardless, let's take a look at their latest project...a bathroom remodel using skill saws and jigsaws!!!
Tool Fools 101
For the last 10 days, my husband and I have taken on the task of remodeling our tiny bathroom. We don't have a huge, fancy arsenal of tools, but we have tools that get the job done. Here is a breakdown of what was used as we worked on this project.
Skill Saw with diamond blade
- this was used for rough cuts on tile under baseboard and some exposed straight edges (at the threshold into the room)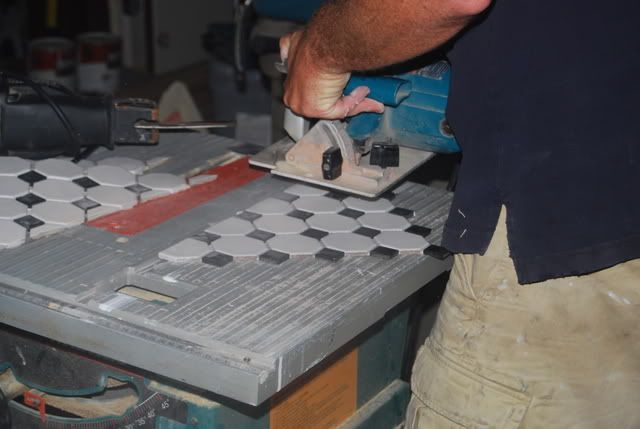 Some tips for using a skill saw to cut tile:
spring for a tile cutter


if you don't want to spring for a tile cutter, practice. Be careful. Cut straight. Don't cut your fingers off.
Jigsaw with diamond tile blade -
used for cutting some radius pieces in the shower drain. This system was so bad, we ended up using the skill saw in the end to complete this task.
Jigsaw with a wood blade -
used to cut beaded board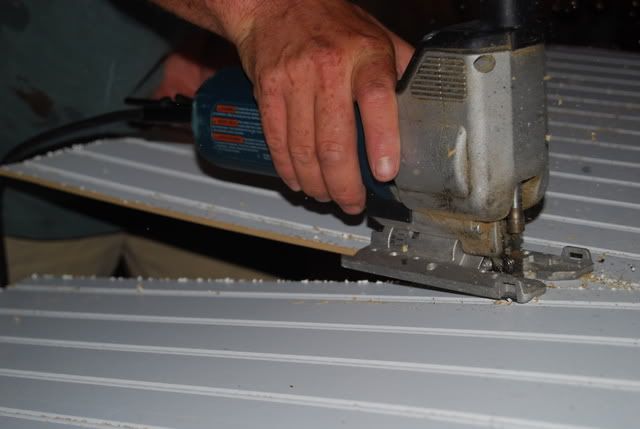 Tips for cutting beaded board with a jigsaw:
We're not complicated people, can you tell? It's amazing with this kind of tool advice to offer, that hubby has been able to rebuild our house from the ground up at all. But he's made it work!
Other tools used for the bathroom project include a 10" miter saw and 10" table saw for bead board and trim, one of the most important things - the level set! I gave hubby his current 3 piece level set several years ago as a Christmas gift. I must have foreseen a crooked house in our future. Several hand tools like a hammer, wood chisel and caulk gun were also used to make this bathroom beautiful. Oh and let's not forget the paint brush.
Check out
my blog
later this week to see the end results. We are almost done!