I love lasagna, but the process of making it never seems fun. That was until I found the perfect no boil noodles from Barilla! If you haven't used these before, I'm telling you they will change you life! This review was not sponsored in any way...it's just my PSA to the world, so you can trust me on this!!!
I've also made the recipe a little healthier. Lasagna is super easy to edit into a lower cal meal. By adding spices and vegetables, you'd never know that it was missing any of the delicious fat!
Start by browning a pound of beef. Feel free to use turkey, too. I used ground beef this time because my market has started carrying a 4% fat package! During the browning process, I add onions and garlic. I find that it makes the beef much more flavorful!
Just before it is done, I add in some red peppers. I don't want them to lose too much flavor, so they only go over the heat for a bit.
In a separate bowl, mix 2 egg whites, a 16 oz carton of non-fat cottage cheese, and 4 cups of low fat parmesan cheese.
Here is the pièce de résistance! The noodles come out of the box just like this and you don't have to do a darn thing to them!
Layer a cup of sauce (I like an italian sausage and pepper sauce for THAT much more flavor), then place four noodles down upon it, then layer a 1/3 of the cheese mixture, half of the beef, and a cup of skim mozzarella cheese. Do another layer of sauce, noodles, cheese mixture, then another of sauce, noodles, beef, cheese and cheese mixture. Then do you final noodles, sauce and cheese.
Once it's ready to go like this, wrap it in foil and bake it for 40-50 minutes at 375!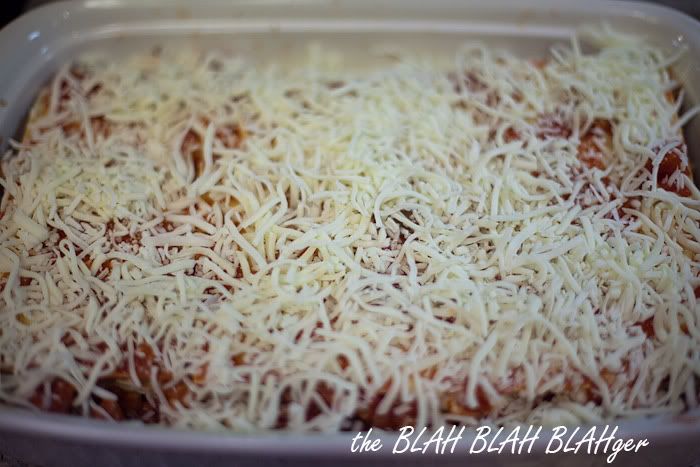 Then, when it's done, serve it to your guests and DOMINATE that bad boy. It doesn't taste low fat, but it does taste DANG GOOD!
This recipe is SUPER simple, really yummy, and it also tastes good for left overs! If you've never used the no boil noodles, I urge you to try them. It makes the prep time for a tasty lasagna only 15 minutes. I'm telling you, these noodles are from Jesus and you MUST try them.
I'm sharing this recipe with my friends at
Tasty Tuesday
today. Please stop over and see what else is cookin!