You probably read that title and said, "say whaaaaa?" Don't be deceived, I surely am. In the mid-nineties I graduated from high school and packed my things for an adventure to Texas...
TCU
specifically!
Growing up, I was a dancer and read Dance Magazine all the time. My junior year, I saw a pic for
a gorgeous collegiate dance studio
and then ordered brochures, etc. My parents indulged me, because at the time, we
thought
TCU, Texas Christian University, was a conservative religious school, so we went and visited and absolutely fell in love with the people and the campus.
Flash forward a year later, and I was moving into my very first dorm and learning to don purple and white and yell the school chant, which legend has it is the oldest collegiate cheer! Ready to learn it???
Riff, Ram, Bah Zoo
Lickety, Lickety, Zoo, Zoo
Who, Wah, Wah, Who
Give 'em Hell, TCU
Ya, I agree, it's totally silly! But you know what??? Those southerners really know how to tailgate! In school, my
sorority sisters
and I would get all dressed up, then go to the stadium for some pre-game fun. We were all preppy and sassy and ready for a good time. Now I hear that the girls tailgate in skimpy purple dresses and bedazzled cowboy boots. How times have changed! I mean look at this dress. Helloooooo, who are you trying to impress, girls?!
When I was in school, the football team wasn't all that great. Really, the games were more about the tailgates than the football. But naturally, the year after I graduated they started to get really good and even made it to the
1998 Sun Bowl
in El Paso. And guess who they played?! Yep, that's right USC. And GUESS WHO WON! Yep, that's right, my Horned Frogs (28-19)!!! That year, my dad decided there was no choice but for the whole family to fly to El Paso for the game. It was painful, but also very fun to watch the victory!!!
SEVERAL years later, we were in Denver for Thanksgiving and TCU played Colorado State, so once again, the whole family had to drive up there for the game. My sister-in-law was preggers at the time, so she actually got to stay home, but the rest of us donned our purple and went to the game. It was fun and made for a fun family memory. Photos below are from that experience. (Hmmmm, I really like my hair that color.)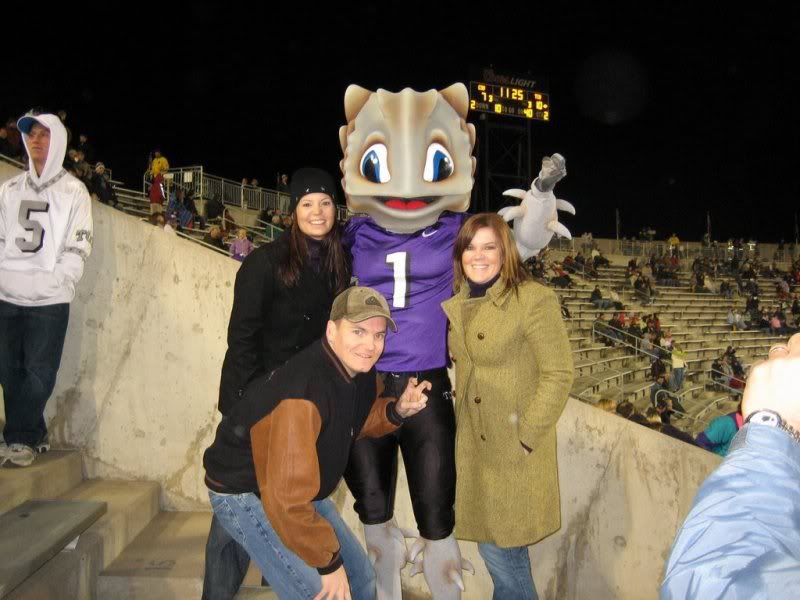 All in all, I'm no major football fan, but I do enjoy the opportunity to hang out with friends and watch my team go on to victory! Thanks to Kelly from
Kelly's Korner
for hosting this fun blog carnival!