Last week, as I went settling back in, unpacking, downloading photos, from a week spent in TX, I realized that the
Green Monster
had also unpacked and settled in...not sure if he's downloaded any photos yet, though.
That's right...I came home to the itsy bitsy teeny weeny condo and helped myself to a gigantic bowl of Castle Envy! I'd just spent a week with different friends in their gorgeous homes with their equally gorgeous children and I came home to an empty house. For pete's sake, I don't even have a cat anymore (but that was really more about wanting nice carpets for a change...and another story for another day!).
When I had a couple of days to break down what I was envious about, I realized that there were certain things my friends had that I did not...but that they were not unattainable!
Robin has a gourmet kitchen, with all the gadgets a girl could ever want. Her home is comfortable and welcoming.

Lindsay has a home that is bright and airy. Her high ceilings are emphasized and she has minimal clutter.

Emily has amazing rooms straight out of Pottery Barn catalogs, with large pieces of black and white photography to punch up her family moments throughout the years.
These are all things I can do, too!
For instance, while I might be envious of all Robin's Le Creuset, I can start small by buying up pieces here and there at outlets, etc. OR begin buying the equally charming Martha Stewart Enamel Cast Iron cookware at Macy's! I can also check HomeGoods for other fun and fancy kitchen gadgets. And maybe I should stop storing my fab KitchenAid mixer in the back corner. Who cares if I only use it for
this dessert
every once in a while!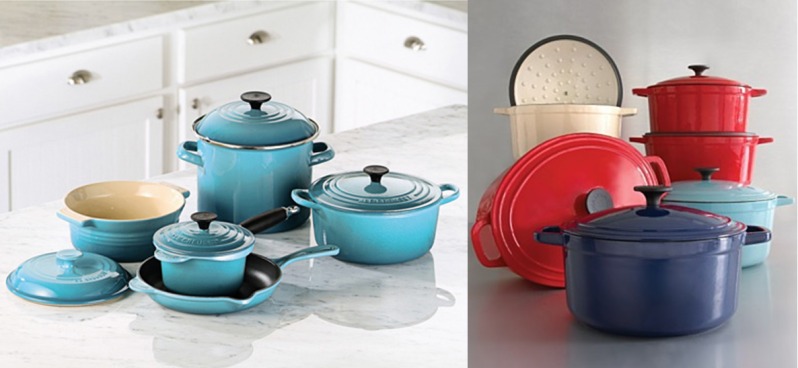 And I might be envious of how bright and airy Lindsay's house is...but you know what? I have vaulted ceilings throughout my place, too, and I never take advantage of them because I almost ALWAYS have my curtains drawn and my door shut, so those high ceilings don't get any natural light. Is that totally Californian, or what?! I've lived here for almost SEVEN years and I don't know my neighbors by name and I practically lock myself indoors the moment I get home. Lame! From here on out, I'm going to open my curtains the moment I get home and just use my screen door until it gets too cold. I should be using my gorgeous California sunlight to the extreme and not avoiding it!!!
And the clutter solution is easy. I just need to eliminate it. Unopened mail does not need to live on my kitchen counter. Magazines do not have to live out in plane sight. Remote controls can live inside the drawer of the end table. That's all there is to it. I just need to be more committed. Does any of this sound familiar in YOUR home?
As far as Emily's house is concerned...I really love her formal living room which boasts gorgeous black and white images of her kids. I have a wall of shame, too, but it's pretty eclectic.
While her images are all unified by the fact that they're black and white, I've decided to focus on having mine all in the same color frame.
Sounds like a job for a good can of spray paint! I think I'll even use some risers in order to create depth and that real
gallery
feel!
And yes, her rooms do look like they are straight out of Pottery Barn, but you know what? I've got some nice furniture, too. The couches are all from Bassett and I need to remember what the price tag was on my high quality pieces the next time I begin to think they're not that nice!!!


So, am I alone in this? Do you ever fall prey to Castle Envy? He's an ugly beast, but I'm pretty sure that I'm not all alone in this one... Tell me ways that you've been able to conquer the Beast and let's fight this one together!!!